Lavender Soap | Why should you use it?
Be it showering or answering nature's call, your bathroom is your place of comfort, your kingdom and your throne.  From treating your bathroom as your karaoke session or concert (usually comes along with bad singing and occasional breaking of mirrors!), relaxation time, a place to let your creativity flow and deep reflection, or even as a place for social media especially when sitting on a toilet bowl.
If only they had a Bathroom Idol, I would win for sure. Hahahaha
I'm sure everybody enjoys their shower time and spend a good amount of time in their bathroom in a year! According to a Bathroom Habits Survey from MaP, an average person spends about 30 minutes in a bathroom and that is actually MORE than 182 hours per year for each individual. So make the most of your time in the bathroom and spend it on quality! The soap you use when you shower not only affects your skin but also your mood as well!  ◡̈
If you are someone who is into aromatherapy, you are probably familiar with the scent of lavender. Other than its natural calming properties that are used by many, that's just one of the many benefits of a bar of Lavender soap. Here are just 5 of the top properties of Lavender that you ought to know!
1. Natural Remedy for Acne and Eczema
Do you know that 21% of Singaporeans suffer from Eczema? That is actually a whopping number of 1.2 million Singaporeans! Shocking isn't it? Lavender soap relieves the itching and decongests the irritated patches of affected skin by moisturizing it and thus hastening the healing process!
Acne… is definitely the bane in our existence. It is a common skin problem due to bacterial infection. We understand the pain of those especially with sensitive skin as it is just so hard to find a treatment for this horrible acne without causing even more redness or skin irritating.  Say bye bye to dull, unhealthy, and acne prone skin! Lavender is a natural remedy for reducing skin impurities and acne and treat skin infection because of its antimicrobial properties.


Treating Cuts, Wounds, Burns and Insect Bites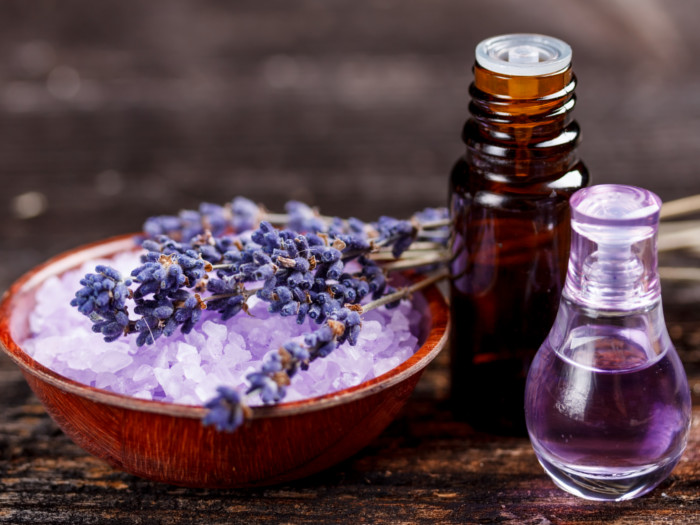 The lavender essential oil contains strong antibacterial properties that heal cuts abrasion on the skin,  insect bites and even sunburns! Lavender soap is a healing aid for any types of skin infection. It is also a powerful antiseptic that eliminates disease-causing pathogens in your skin! What's more, lavender has anti-inflammatory properties that heal burns and scars by stimulating cell formation which reduce scarring and enhance healing of the burn.
Stress Relief
Do you know that lavender can relieve stress? Lavender can alter brain waves and create feelings of stress relief and well-being. After a long stressful day at work or school, jumping into the shower is meant for your relaxation and to wash away all your stress down the drain. Soap made with lavender essentials oil has stress-relieving properties which can help to promote a sense of relaxation.  The calming and sedative effect of lavender essential oils helps in relieving depression, anxiety and even headache! It is an effective calming aid for anxiety and to calm energetic children.
 Induce Sleep
The calming aura is known to treat cases of insomnia, anxiety and restlessness.  Lavender soap can also help you to fall into a deep, restful sleep when used before bedtime. It efficiently improves sleep quality by decreasing heart rate and blood pressure and induced you in a more relaxed state.  Because of its aromatic properties, this is why in the past people often filled their pillows with a lavender flower to enable them to sleep peacefully. A whiff of this fragrance provides a wave of relaxation, which is a great way to end the day into your dreamland. Rockabye baby on the tree top~
Anti Aging Benefit
Lavender relieves tension, stress and inflammation which are all culprits of skin-ageing. It also boosts the circulation system, and increase the flow of oxygen and nutrients to skin cells.  This results in lowering the common signs of ageing such as wrinkles and fine lines.
Here at Fairé we have curated two bars of Lavender soaps - Pellucid & Lavendula
Infused with lavender essentials oil that engulfs your senses and give you relaxation while your skin enjoys the natural benefits! The dried lavender buds is for gentle skin exfoliation on our skin.
The overall appearance of Pellucid is the purest and cleanest look amongst our lines. It's simplicity and elegance very much reminded us of the crystal; Pearl, hence the name.
Our crowd favorite, Lavendula is a lavender-scented bar with its naturally calming effects with its perfect combination of lavender essential oil and charcoal powder.
Now after hearing all the benefits of lavender soap and our curated collection, add a lavender soap to your skin care essentials and have a relaxing lavender bath today! ♡